The Face of the 3rd Eye

Jagdish Shah studied Chemical Engg. at IIT, Mumbai and subsequently underwent an extensive program on Business Management at IIM, Ahmedabad.

He started his career as a trainee engineer at Cibatul Ltd (Ciba's jv with Atul of the Lalbhai group) in 1974 and through successive promotions became its Managing Director in 1995.
On merging of Cibatul in to Atul Ltd in 1999, he came on the Board of Atul as its Executive Director. After several successful assignments in the Lalbhai group, Mr. Shah moved to the Board of Pidilite Industries Ltd as Director-Operations..
After spending ~3 years at Pidilite, Mr. Shah wants to draw on the insight acquired while managing a wide variety of positions/situations/people over the past 3+decades in now addressing complex business and organizational issues across industries. He believes that whatever are the challenges, the fundamental human tendencies do not change; that there are definite ways in which a set of people can be motivated and energized to excel as a Team and guided to pursue challenging assignments with passion. It is the subtle understanding of the thinking and behavior pattern of executives at different levels that he offers to organizations to supplement their efforts towards the pursuit of the company goals.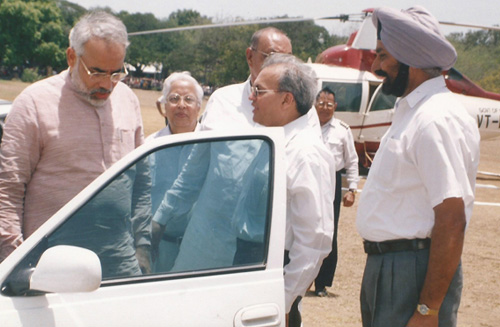 Welcoming Shri Narendra Modi, the then CM of Gujarat
Our Mission
To support organisations in realizing their full potential drawing on the Founder's experience in successfully handling a wide range of business situations as also through continuous learning of newer techniques in the fast changing world.